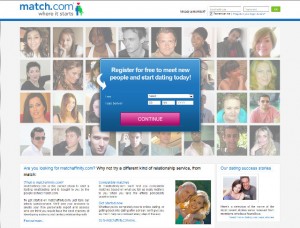 Match.com is one of the most popular and most used online dating sites in the US and around the world. People claim it's legitimate and safe. So we've decided to review this site on your behalf.
After examining the whole site and investigating some of it's "problems", we have discovered that this site is the real deal. It's safe, legitimate, professionally done and it has no ads to distract you.
A nice thing about match.com is that the responses you'd get from other members are legitimate. They surely don't waste time when you leave them messages. You do pay a bit for using the service but it's money well spent. It's not one of those exclusive sites where men and women pay differently. All of us pay the same amount for the same features.
Pros of match.com.
Match.com has loads of search filters that help you to find someone based on your criteria. It's highly detailed and accurate. The overall look of the site is also very nicely done. The profiles are also easy to read and the text was a good size. It's easy to browse the hottest members. The responses you'll get will most likely be good from individuals with good profiles. Scammers are a bit rare here.
Cons of match.com.
Customer service might take a while to respond to any inquiries and complains. This is due to the size of this site. You have to get a premium membership before you may contact someone but it might not b that expensive. The account creation time is a bit longer than other sites.
The verdict.
Match.com has excellent search and filtering options. This lets singles dig for dates in a fun, effective manner. It also maintains your privacy, security and it doesn't have scammers. The features are all the same for every member out there, so you won't have any compatibility problems based on what computer or internet browser you use. The busy interface and other features are the items that makes this site so attractive to use.
The current membership fees re as follows:
| | |
| --- | --- |
| Duration | Price per Month |
| 12 Months | $20.99 |
| 6 Months | $23.99 |
| 3 Months | $26.99 |
| 1 Month | $41.99 |
If you look at the membership fees then you'd be better of taking a long-term membership than a single month. One major advantage of this site, is the fact that it has apps for iPhone, Android, Nokia and Windows Phones. Blackberry users are a bit left out here.