Description
Dating seems like not a big deal when you live in, let's say, New York. Once you come to think of it, chances of meeting "the one" are much better when you live in a city that millions of people call their home. However, when you live in a small city, in the country, or in a state such as Montana, dating can become a real issue.
There are not so many people you get to meet in your life time and if you don't find anyone you like in that small group. The  solution to this problem is Montana Personals. Here to help you find love in small cities and towns across Montana.
Today's standards of modern living bring internet connection wherever you are and that is all you need to open the door to a whole new world of Montana singles. Montana Personals is here to help you meet someone new, somebody interesting, someone curious about you. There are single men and women everywhere in Montana. Finding you a date shouldn't be a problem.
So, no matter how old you are or how you look, regardless of your cooking skills or your education level, feel free to create a profile on their website. There is someone near you who, just like you wants to find the one and who knows maybe the one is just around the corner.

Description
MT Dating is a local dating site for people looking to find love and friendship online in Montana.
One of the major benefits of MT Dating, is the fact that you can search for your ideal match through factors that you perceive to be important. If you are someone who is heavily into music or movies and wish to find someone who reciprocates your love for the same interests then you can. With them you have total control over who appears in your search results and you can filter your results by appearance, location, age, and many interests.
They are a local dating site that will allow you to get to know other single people in Montana before meeting them. You have the ability to interact with singles who you like initially and truly find out if there potentially might be a spark there before going on the date. You can send winks, messages and talk to them to find out if your personalities match and then decide to take the next step and meet.
Montana Dating is a fully responsive dating site, allowing you to use the site's features whilst on the move on your phone or tablet. Making finding that special someone a lot easier.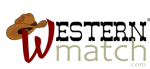 Description
Western Match launched it's dating service back in 2002, because there was a need for individuals who lived in rural areas to meet others who lived their lifestyle. Opening the doors for country western singles from around the world to communicate. They started to match country singles with each other.
Along the way they have grown to be the number one trusted cowboy dating site. With thousands of members joining each year and recommending our service to their friends.
They were voted the #1 cowboy cowgirl dating site on datingadvice.com. With the ever changing world of internet dating, they  continue forward with providing you the best service possible.
Western Match is not a part of any dating network where you sign up to one service and your profile appears on all the other dating sites within that network. They have our own unique member database.
Join Western Match today and go an adventure and you might find that special someone along the way.