Dynamic Introductions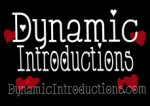 Name:
Dynamic Introductions
Description:
Dynamic Introductions is a matchmaking service that caters to all ages. Their services are professionally oriented. All of their members either don't have the time or they don't know how to approach others. All of their members are subjected to a background check and a personal interview. They provide no information on the cost of membership but they do provide a dating coach for your personal use. Dynamic Introductions work together with a speed-dating service in order to host events. According to a business review, Dynamic Introductions has achieved an A rating, just short of an A+.
Their main office is located at: 230 Amherst Street, Nashua, NH 03063.